Okay folks, sit up and listen. Because you're about to know about the most amazing thing I've eaten this whole week. (And I eat a lot of sweets.)
This is a huge chocolate chip cookie made with
browned butter
, baked in the oven in a pan until the outside is set and crunchy while the inside is still warm and gooey. I don't usually go gaga about cookies, let alone non-crispy ones, so the fact that I'm practically raving mad about this is testimony enough to its sheer deliciousness. Best of all, this cookie pie is yours and yours alone. No sharing. Nuh-uh.
If you've been sniffing around for chocolate chip cookie recipes, many of them advocate using browned butter for the best-tasting cookies. Just the number of fans of this ingredient could have been enough to persuade you to think likewise but have you ever considered just how is a cookie made with browned butter different from one without?
Perhaps the obvious answer would be
duh, the cookies have a nutty fragrance to them.
Maybe, but I think its more than that. When you brown butter, there is a distinctive toasty smell right? And when you incorporate the browned butter into a cookie, it should smell like something remotely similar right?
Wrong.
Browned butter does not give the cookies the toasty nutty flavour straight up browned butter has. Rather, it adds a complex, rich and deep flavour to the cookies. It's like all your life you've been using white sugar and now you've discovered brown sugar. Or something like that. I am an absolute convert now. I think browned butter adds that secret flavour I've always been trying to achieve- just like Famous Amos' chocolate chip cookies.
The second step in this recipe that renders this cookie pie irresistible is the chilling step. I made the dough the day before, allowing the sugars and whatnot to meld together during their few hours' rest. I'm sure the article on this chilling the chocolate chip cookie dough thing is pretty much viral. You can check up on it if you need some convincing. For some, the chilling step is crucial for the best flavour but for me, I like to make my cookie dough in advance also because its less of a hassle when you want to get down to the eating.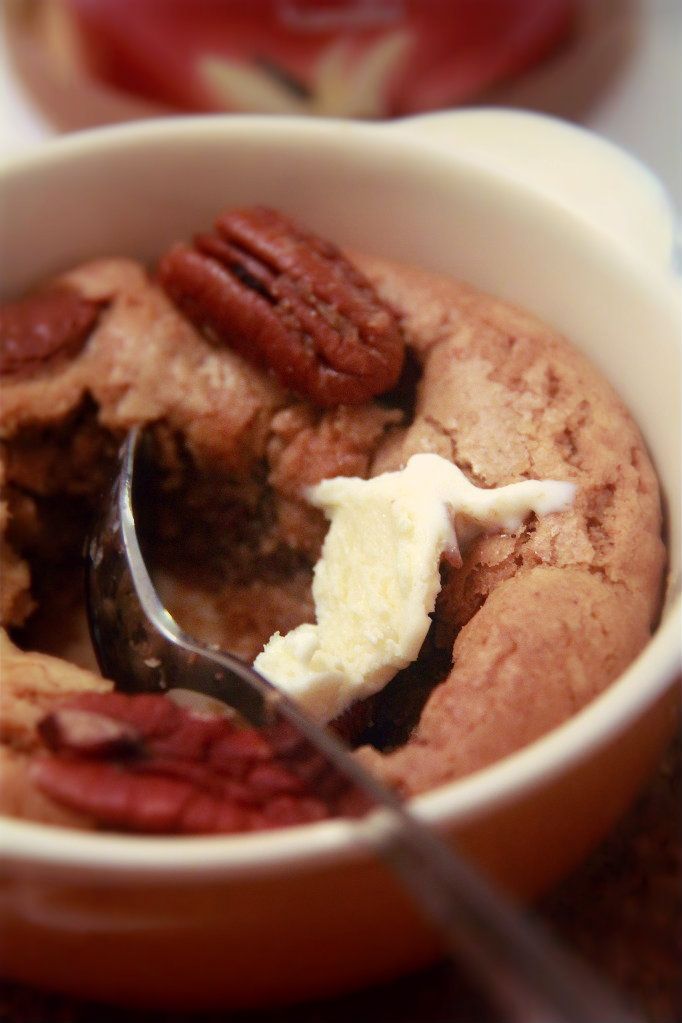 Chocolate chip cookie pie seems incomplete without a scoop of vanilla ice cream, whether for aesthetic reasons or taste. Personally, I prefer to eat my pie without a scoop of fast-melting ice cream on top. I'd rather not challenge myself to a speed eating contest. I scooped my vanilla ice cream into a bowl on the side to go with the pie but I had to include a tiny spoonful on it to snap a quick picture just because.
Another reason I don't like ice cream on my pie, besides having to race against time, is when you put something that cold on the cookie, the cookie starts to cool down real quickly and loose its gooeyness too.
The last thing I have to say, and maybe emphasize, is that please wait for your pie to cool for at least 5 minutes! Your tongue will thank you and besides, letting it cool allows the crust to firm up and have a nice crunch.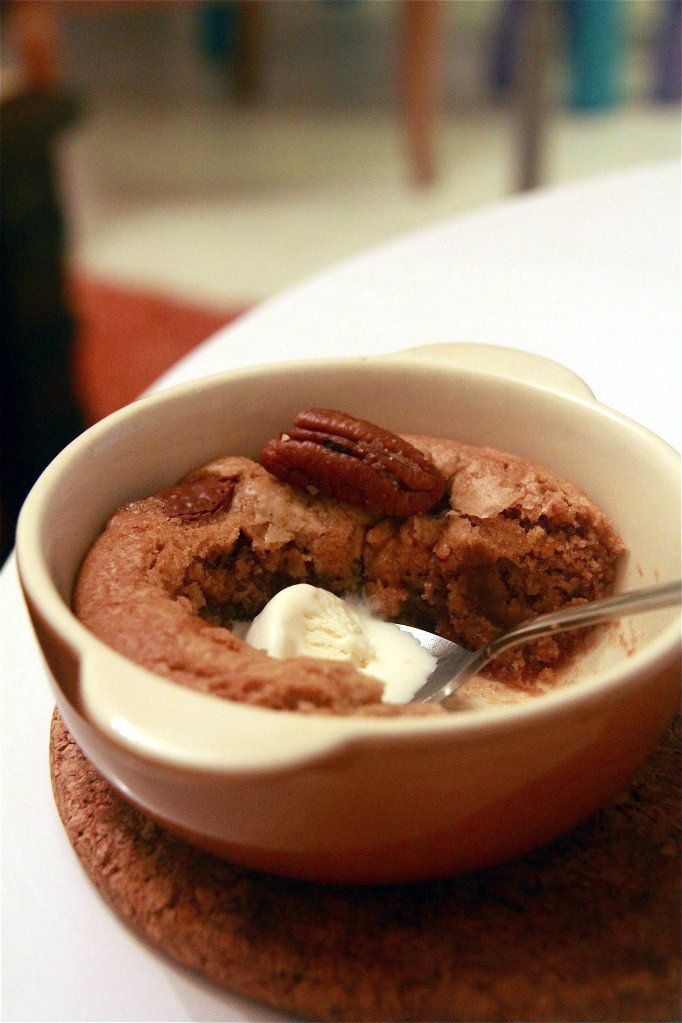 Chocolate Chip Cookie Pie
makes enough for you and you alone

This seems like a small amount of dough but trust me, it is rich! Patience will pay off when you let your cookie dough rest for at least 12 hours before but without the chilling time, it will still be good anyway.


18g butter, melted and browned
2 tsp sugar
2 tbsp brown sugar
1/4 tsp vanilla extract
1/6 egg
1/4 cup flour
1/12 tsp baking soda
pinch salt
2 tbsp chocolate chips or chunks
Preheat oven to 350F. Prepare a small baking dish.
Mix the flour, baking soda and salt together.
Combine the browned butter, sugars and vanilla in a bowl. Add the egg and mix to incorporate. Add the flour mixture and stir just until incorporated. Add the chocolate chips or chunks. The dough will be stiff.
Pat the dough into the prepared baking dish. At this point, you can choose to refrigerate it for a few hours before continuing or bake straightaway for about 10 to 15 minutes or until the top starts to turn golden while still remaining soft in the middle.

Remove from the oven and let it cool for 5 minutes before digging in.