When I took a bite of one of these, I had to drop whatever I was doing and write this post immediately. Of course, it did help that I was already using the computer.
This recipe is taken out of my latest acquired baking book, Baking by Flavour. It's one of those books that make you want to bake every single recipe, keeps your eyes glued to the pages despite the lack of pictures and smile unconsciously while doing so. It is, without a doubt, one of my favourite books already.
There were too many recipes I wanted to try and too little stomach space, but I had to start somewhere. I picked out
blueberries and cream breakfast cake,
mostly because it had the word
cream
in it. I didn't have blueberries but I did have strawberries, so I made the switch. I also had a sudden want to bake regular cake batters in madeleine molds so that you can eat them while they are still warm and with crunchy tops. None of that waiting for the cake to cool before slicing precautions. This idea is actually a suggestion from none other than the author herself and came up a few times in the book. Her vanilla and chocolate madeleine recipes do not yield the orthodox sponge-cake-like madeleines but madeleines made from a typical creamed cake batter. I definitely will give those a try one day but for now, cream is calling.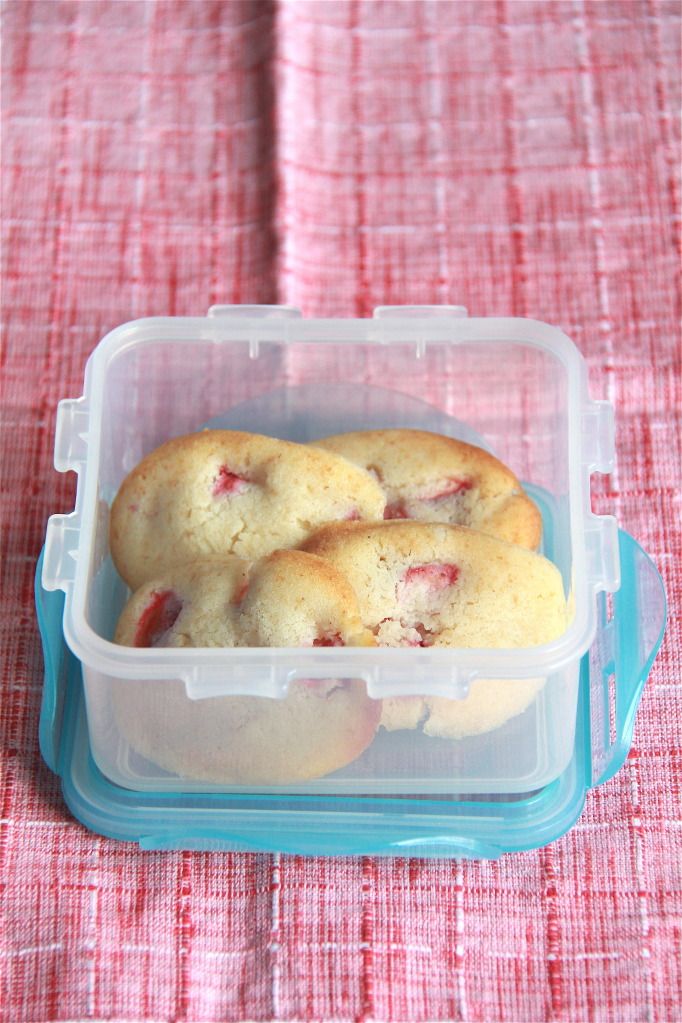 I've never used cream in my cake batters before and I feel like I've been missing out on this wonderful secret. The cream not just adds a subtle milkiness to the cake, it also makes the cake taste richer and more buttery. If you've always been trying to make the best-tasting butter-iest butter or pound cake by adding more and more butter but feel like it's always not quite there yet, I bet adding heavy cream would do the trick without the extra butter.
The cake was so good I almost wished I'd left out the strawberries so that I could have it in its uninterrupted glory but in the end, I was thankful for the berries' refreshing lift because a plain cake may prove to be to rich to be consumed in large quantities.
Cream just may find its way into many of my future cake batters.
Strawberries & Cream Madeleines
adapted from Baking by Flavor by Lisa Yockelson
makes 24
1 1/8 cups all-purpose flour
1/8 cup cake flour
1 tsp baking powder
3/8 tsp salt
1/4 tsp freshly grated nutmeg
1/2 cup diced fresh strawberries
7 tbsp unsalted butter, softened
1 tbsp shortening
1/2 cup + 2 tbsp sugar
1 large egg
1 tsp vanilla extract
1/3 cup heavy cream blended with 1/4 cup milk
Preheat oven to 350F. Butter and flour madeleine pans.
Sift the flours, baking powder, salt and nutmeg into a bowl. Take 1 tsp of this sifted mixture and toss it with the diced fresh strawberries.
Cream the butter and shortening until combined. Add the sugar in two additions, beating for 1 minute after each portion is added. Beat in the egg in two additions, blending well after each addition. Mix in the vanilla extract.
Alternately add the flour mixture in three parts with the heavy cream-milk blend in two parts, beginning and ending with the flour mixture. Stir in the strawberries. Let the batter stand for 3 minutes to thicken slightly before portioning into the prepared pans.
Bake for 12 minutes or until an inserted skewer comes out clean. Cool the madeleines in the pans on racks for 1 minute before unmolding. Eat while still warm.